Home
Saplings Nursery
Welcome to Saplings Nursery
In nursery we encourage child initiated learning and plan the curriculum around the childrens interests and fascinations. Nursery is organised and equipped to meet the needs, interests and stages of development of all of our children.
Our curriculum involves children learning through play. We believe that the children learn best through a 'hands on' practical approach. Learning takes place within a stimulating, exciting and well-resourced indoor and outdoor environment.
We ensure the seven areas of learning are weaved into each area of provision, and every day there are opportunities for children to express themselves creatively.
The 7 areas of learning are:
Personal, social & emotional development
Communication and Language
Physical development
Literacy
Mathematics
Understanding the world
Expressive Art and Design
Throughout the year we read books from the Pie Corbett reading spine as well as books linked to weather, seasons, interests and celebrations. The reading spine books are as follows: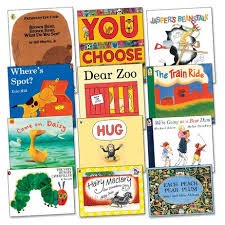 These books are readily available within nursery along with props e.g. soft toys and puppets. The children are so familiar with the stories they will read them
independently and to their friends. The reading spine books are also available in our home loan library located in the entrance to nursery. It is lovely to hear the children say they have read the stories at home with their families.
We place a huge emphasis on the love of reading and nursery rhymes. We follow the early stages of Read, Write, Inc (RWI) phonics sessions, which the children will continue to access in Reception. There are daily story sessions that explore high quality texts in interactive ways. Books are available and promoted in the learning areas around the classrooms and children are encouraged to access these at their own pace. Throughout the day the children will enjoy nursery rhymes, songs and poems, which all develop key reading skills.
Autumn
Our main focus during these early weeks is upon developing children's confidence, independence, self-esteem and social skills. We will introduce the children to new friends and new experiences. We will teach new skills and concepts, so that the children have the necessary tools to be creative and imaginative.. In addition to this we will also be learning about Autumn, looking at the beautiful leaves, conkers, acorns and other treasures we find.
This term we will be reading 'We're Going on a Bear Hunt', 'Where's Spot?', and 'You Choose'. We will also share books about friendship and kindness as well as texts about Autumn. Towards the end of the term we will read books linked to Christmas.
At the end of this term we will be doing lots of exciting activities linked to Christmas, we will share the Nativity story with the children and the children will find out why Christians celebrate Christmas. The nursery children will also be involved in their very own special 'Christmas Sing along', to which you're all invited.
Spring
This term we will be investigating what happens in the world around us in the season of spring, such as new life and growth. We will observe tadpoles turning into frogs and will be growing our own plants. We also plan to take part in the RSPB Big Bird Watch and celebrate Chinese New Year.
Some of the books that we will be focusing on this half term are 'Jaspers Beanstalk' and 'We're Going on an Egg Hunt' as well as a range of non-fiction books. We will be continuing with our number work through nursery and number rhymes such as 'five little ducks' and 'five little speckled frogs'.
Summer
We will continue to plant in the garden and observe caterpillars changing into butterflies, as well as following the interests and passions of the children.
Our focus reading spine book will be The Train Journey. We will use this to help us with transition and link it to the seaside. We will make our own ice cream and lollies